You are currently browsing the category archive for the 'Aliens' category.
"There was an incident," he said. "A series of incidents, I guess. A dead guy, another dead guy. Some drugs. It's kind of a long story. Now we can see things. Sometimes. I have a dead cat that follows me around, wondering why I never feed it. Oh, and I had one hamburger that started mooing when I ate it." He glanced at me. "You remember that?"
I grunted, said nothing.
It wasn't mooing, John. It was screaming.
John Dies At The End was originally a story serialised on a website. Then it was published as a book. Now it's about to be released as a movie, directed by Don Coscarelli who made Phantasm and is therefore a very cool person in my book. Here have a look at the trailer. My high concept for the story is William Burroughs rewrites Bill and Ted's Excellent Adventure. It made me laugh, a lot. More impressive though is that it also managed to disturb me with the implied horrors bubbling along beneath the comic banter between our hero David Wong and his friend John.
As David is telling the story of his adventures – actually during the course of an interview with a reporter named Arnie – we learn that his name has been changed to make him harder to find, presumably by the obsessive fans who follow his adventures online given his growing reputation as a combater of supernatural threats. See one night David and his friend John – also not his real name – were at a concert in the town of Undisclosed (many of the details in the story are redacted for legal reasons) when they encountered a strange fellow pretending to be Jamaican and supplying folks with a drug called Soy sauce. It was a hallucinogen, those who took it experienced visions, heightened senses – as well as death. Overnight almost every person who met the fake Jamaican had died mysteriously, except for John.
The two friends quickly realized that Soy sauce is not just a drug. Following their exposure – David accidentally manages to inject himself – they become aware of strange creatures massing on the borders of this dimension. The end of the world is coming and its only hope is two confused video-store clerks who don't really understand what is going on.
Much like House of Leaves by Mark Z. Danielewski, John Dies At The End cleverly embraces the capacity of the internet to spread stories. Through the course of the book we learn that David and John are becoming more famous, a neat parallel for the growing interest in the book itself online.  This is also the source of the story's greatest strength. By rooting itself in the commonplace weirdness of the internet – every possible combination of aliens, demons, magic and superscience is just a google search way – the book apes an almost convincing plausibility. The seeming personal testimony of Wong, the pseudonym of Cracked.com contributor Jason Pargin, is also a nice gimmick.
However, the story also has a number of poignant moments surrounding death and our awareness of our mortality. It pop-nihilism, stripping away the ponderousness of Lovecraft's Cthulhu-beasties but retaining the crushing awareness of our cosmic insignificance, is surprisingly compelling. There is a lot of laughter to be found in these pages, but also a creeping sense of dread.
Finally it must be said the ending for this book, a book which is relentless in its foreshadowing of endings, is simply perfect. I cannot wait to see the movie.
In any event, there is one conclusive answer to "it's only a movie."
That answer is: You've already bought a book whose whole purpose is to discuss meaning and consequence in the Star Wars Universe! Everybody who contributed, from accuser to defender, believes there is something worth arguing about. We'll do it because the topic matters, or because it's fun to argue, or because we're being paid to argue. Most likely, all three.
A few weeks ago I had the pleasure of speaking to Alexandre O. Philippe, director of The People Vs George Lucas (interview for Filmink magazine here). The film itself is well worth checking out, as it perfectly captures the – to outsiders – seemingly inexplicable fanrage of Star Wars devotees. However, even if the rantings and ravings on camera are not something viewers can relate to, a person would be very hard-pressed to claim they had no idea what Star Wars was, or who George Lucas is, or even – what is the Force? So from that point of view, it is difficult to write off the science fiction franchise as being 'just for kids', although on the opposite extreme it is equally hard to insist that it is actually a twentieth century monomyth with a straight face.
Confusingly Lucas himself has made both claims. That is just a hint of how contradictory the man's relationship with Star Wars is.
Star Wars on Trial amusingly sticks to a court-room cross examination of the franchise itself, its strengths and failings, and the effect it has had upon the various industries swallowed up by Lucas' empire. David Brin, following on from his evisceration of The Phantom Menace in 1999 for Salon, argues for the prosecution. Matthew Woodring Stover, also a science fiction writer, is our plucky court-appointed defence lawyer.
Perhaps that is where the problem lies with this book. Brin is presenting a critique of a series of films and their subsequent spin-off materials on the understanding that this is an intellectual exercise. Stover appears to think he is in Law and Order. The banter between the two 'opposing counsels' starts off being amusing, but as the argument progresses, the Lucas loyalist seems worryingly earnest, becoming insulting even at times. To wit, his attempt to frame Jeanne Cavelos' excellent piece 'How the Rebel Princess and the Virgin Queen Became Marginalized and Powerless in George Lucas's Fairy Tale', as an appeal for overt onscreen cruelty towards female characters (this is in response to the complaint that the heroine Padmé dying of a broken heart is dubious at best in this technologically sophisticated universe).
The witnesses are themselves writers or cultural theorists, who present their evidence and are then questioned by Brin or Stover. Amusingly a 'Droid Judge' presides over these interactions. The topics argued include the political subtext of the series, its status as science fiction – Brin argues that it is fantasy literature in drag, the would-be mythic significance of Lucas' work, alleged plot-holes, mischaracterisation of women within the franchise and finally its legacy for the film industry.
This book has one undeniable highlight for me, a moment of pure 'gotcha' brilliance. For years I have heard that the Force draws upon Buddhism, Taoism, y'know that whole 'Eastern' lark, to pad out its pseudo-religious significance. Witness for the prosecution John C. Wright disabuses Stover of that notion quite brilliantly during the cross-examination. Robert A. Metzger mounts an especially, uh, interesting defence, arguing that Lucas has actually created a work of Gnostic significance. I found that quite fun, but hardly convincing.
One point that is made, and relates particularly to Stover who has written novelizations of the films, is that this 'Lucas empire' has provided a lot of writers and creators starting out with excellent opportunities. However, the counter-argument is that this in turn has led to a monopolization of both film and publishing, with science fiction itself sandbagged by the imagery and concepts of Star Wars, excluding ideas and concepts too alien for a galaxy far far away.
Overall I found this to be an intriguing and entertaining dialogue on Star Wars, but also an occasionally frustrating one. Thankfully it is more thoughtful and well-reasoned than your average chatroom debate though.
Lint's first novel was published by Dean Rodence's Never Never company in New York. The relationship between Rodence and Lint was one of complete mistrust, rage and bloody violence. When submitting work in person, Lint insisted on appearing dressed as some kind of majorette. 'He was a large man and clearly wasn't happy at having to do this,' explains Fleece. 'He blamed Rodence, was resentful. I still don't know where he got the idea he had to dress that way when handing his stuff in.'
Some months ago I reviewed a book by Steve Aylett titled Only An Alligator which I reported left my brain melted, as I was reduced to moaning softly on the carpet.
Obviously I had to come back for more.
Lint is the biography of a eccentric science fiction author named Jeff Lint, detailing his career writing for pulp magazines such as 'Startling, Astounding, Baffling, Useless and Terrible' to his abortive animated show Catty and the Major and finally his retreat into reclusiveness, interrupted by the occasional obsessive fan. Steve Aylett describes the circumstances surrounding the conception of novels such as One Less Bastard, The Stupid Conversation and I Blame Ferns, as well as his controversial comic book The Caterer.
Aylett also discusses Lint's series of failed marriages, including one union which collapsed when a presumed facial scar belonging to the author was revealed to be a sleep-crease and then there's his fractious rivalry with fellow author Cameo Herzog, who goes out of his way to destroy the career of the bemused Lint. Success came tantalisingly close for the writer. His forays into entertainment produced scripts that eventually became Patton and Funny Girl – although the final screenplays were entirely different (George C. Scott is revealed to have been quite fond of Lint's original piece Kiss Me, Mister Patton) He had less success with Star Trek, deciding to emphasise the essential boredom of Gene Roddenberry's future utopia with an episode titled The Encroaching Threat. While the teleplay was never filmed, Aylett shares with readers some highlights of the script including:
For the duration of 'The Encroaching Threat' the new character Chekov is said to be 'flirting with McCoy' and Sulu is repeatedly seen 'lurking' near a doorway while 'sinister theramin music' plays.
As it happens this book has been made into a film, a documentary in fact on the life of the mysterious Lint, with the likes of Stewart Lee, Jeff Vandermeer and Alan Moore appearing to discuss the legacy of the author. Here's one of the teaser trailers released.
This is possibly the funniest book I have read in….it's the funniest book I have read! Jeff Lint is part Philip K. Dick, part L. Ron Hubbard, with a couple of other parodies thrown in to the mix as well. Aylett's insistence on the writer's genius, investing great meaning into his every utterance such as this line from his autobiography The Man Who Gave Birth To His Arse: 'What I wrote then was a surrender to the bathysphere part of the human mind. Despite platitude universes beyond the door, I dealt in squalls of unimaginable intensity. I was in the fully-fledged moment. Happy and volatile, I roared through the labyrinth of bad gems,' – making for a very amusing, neat satire of academic overanalysis. 

One final story. While I was enjoying Lint on the train home from work one evening this young woman across the aisle started loudly conversing with a friend on the phone. I very quickly knew more than I cared to know about her social life, her education and opinions on said friend's intelligence – so I, in turn, began to read from Lint, loudly and clearly, declaiming Aylett's absurdist wonderland to the carriage at large.
I still maintain that my obnoxious performance was the more entertaining of the two.
Read Lint. It's good.
"They'll get hold of you," Mrs. Carmody said, showing us her bloody palm. The trickle of blood was now running down one of the wrinkles from her mouth to her chin like a droplet of rain down a gutter. "Not today, maybe. Tonight. Tonight when the dark comes. They'll come with the night and take someone else. With the night they'll come. You'll hear them coming, creeping and crawling. And when they come, you'll beg for Mother Carmody to show you what to do."
I have not had a great history with Stephen King. His books tend to leave me cold, sometimes even bored, which is fatal for a horror suspense novel. Yet for my entire life he has been lauded as this amazing storyteller, whereas generally he leaves me nonplussed (and I am pleased to see I am not alone on this score – although the Nostalgia Critic irritates some people as much as King does myself, so a mixed result there).
Still I persist in reading King, because there has to be some reason for his success and the affection he inspires in many readers. Here's the thing – I like a lot of the movies and Frank Darabont in particular has proven to be a wonderful collaborator. Apparently he has even convinced the writer to submit scripts for The Walking Dead television series, which should prove interesting.
The  story opens with husband and father David Drayton narrating to us the events of July 19th, when an unusual storm hit the community of Bridgton, Maine (of course!). With his house damaged and the family in need of supplies, Drayton takes his son Billy, as well as neighbour Brent Norton with whom he has endured long-standing acrimony, to the town centre to buy supplies.
At the local supermarket Drayton encounters the rest of the cast, including store employee Ollie Weeks, the elderly town gossip Mrs Carmody and an attractive out-of-towner Amanda Dunfries. Feeling an unusual premonition, Drayton has an urge to drop everything and rush home to his wife Stephanie. Then a fog bank swoops down over the town, similar to the one Drayton saw nearby his own home earlier that morning, eerily still and white. A man bursts into the supermarket yelling about things moving about inside the fog, claiming that he heard people screaming. Some customers grab what they can, infuriating the store manager when they do not pay, and run outside to get home. The rest are swayed by talk of something unusual happening in the mist and trust to the safety of the supermarket.
The cause of the unusual phenomenon is never explained, but when night falls the supermarket is falls under siege by a multitude of horrifying, insect-like creatures and tentacled monstrosities. The people within manage to mount a basic defense against the invasion, but it becomes clear that should one of the larger entities outside attack the store they will all be killed. The strain mounts, with some committing suicide and others turning for comfort to Mrs Carmody, transformed into a prophet of doom by the event, demanding a human sacrifice to appease the creatures. Drayton attempts to plot an escape with other sympathetic folks, but the dangers inside and out of the store increase with each passing night.
I was surprised with how much I enjoyed this story. For one, given that I already knew most of the plot from Darabont's film adaptation, it was pleasing to still be surprised by some of the tricks King pulls here. It is a tight, fast-paced yarn, which owes a lot to traditional suspense stories, where for the most part the nature of the eldritch threat outside the supermarket is left to the reader's imagination.
I think the main reason I enjoyed the story was because it is far less bloated than other King books I have read. He excels as a writer of shorts, too overly fond of extraneous detail in his longer novels. I suspect the reason for this is the evident influence of more visual horror tales, such as EC Comics and the films of his youth. As a horror writer he carries with him a precursor to the OCD-like insistence on jump-cut gore that today's fiction demonstrates. Consider the modern game Dead Space – whose film adaptation I reviewed here – which sets out to be a traditional spine-chiller, but is just as twitch-happy and insistent in its gore as any brain-dead horror yarn.
When King sticks to the shorts, he's far more convincing.
My journal is filled with illustrations and photographs – and yes, even postcards – of places I have been. But let me make one thing clear. I never traveled back in time for fun. I never meant to anything bad. All I ever wanted to do was learn from the past and share what I learned with everyone I could. But most of all, the main reasons I continue with time travel is to find my parents who disappeared so long ago.
Lori over at The Next Best Book Club has proposed a very interesting initiative. She is gathering together book bloggers to create a network dedicated to indie books and self-published writers. It is a very good project, so go and have a look.  Shortly afterwards I got an email from today's author Scott Cardinal, along with a pdf of the novel, which he co-wrote with his cousin Marc Newman, who apparently teaches history in period costume!
This is quite a telling statement, as The Adventures of Justin Tyme (subtitle Mother Jones: The Most Dangerous Woman in America Volume 1) features a village dedicated to maintaining the lifestyle and conduct of late nineteenth century peasant life in America. It is evident that Cardinal and Newman truly believe that greater attention should be paid to the historical past and they make a good case for such an imaginative project for a community (despite this being a work of fiction….with Native American mysticism and time travel, but I'm getting to that).
Justin Tyme parents have been planning to move to family to work with relatives in the experimental commune of Asheville, North Carolina. Before their final departure from New York, exchanging all the modern amenities of city life for hemp clothing and horse-travel, Justin's mother and father vanish. Left distraught, the teenage boy has no idea where they might have disappeared to. Knowing that his parents were involved in doing secret work for the government, there is a good chance that they could be anywhere in the world.
Justin's aunt and uncle bring him with them to Asheville as originally planned. The novelty of the small town serves to distract him from his recent loss and shortly after arriving he makes two new friends, Jett and Catrin, who explain to him what the purpose of the township is:
"Basically, they felt most schools at the time – and even today – made no effort whatsoever to prepare students for the real world, but merely taught them basic information and made sure they could read and write. That just was not enough. That has never been enough. So our curriculum herehas always been, and always will be, quite different from your normal everyday school. In other words, we really learn great stuff here!"
However, one resident of the community seems not to approve of its benevolent intent – Professor Woolkins, who has been entertaining corporate types looking to buy the land and convert it into a tourist attraction. His history lessons on the use of child labour in America during the industrial revolution are also disturbingly critical of the notion of protection laws for minors and he has an unusual collection of artifacts in surprisingly good condition.
This is where the time travel comes in. I do not want to give away too much, but given the title, yes our young hero does discover a method of journeying back through American history and even meets Mother Jones. There is also references to alien visitations, the aforementioned Native American mysticism – the tribe in question here is the Cherokee – but what grabbed my attention here was something far more interesting.
This is ostensibly a work of educational fiction, but it also represents a stout defence of trade unionism and a critique of how society exploits children. Unfortunately while child labour laws were passed in the United States, the depravity and miserable conditions witnessed by young Justin in 1903 persist today. In countries like India and China, and many other places too for that matter, companies in pursuit of high profits continue to use children to do tiring and dangerous work.
For this aspect of Cardinal and Newman's novel I feel I must applaud them. This is not only an enlightening piece of children's fiction – and how often do we hear that – but it is also a welcome critical voice against rampant profiteering, at a time when such methods are once again seen as the norm.
Fun, informative and surprisingly impassioned.
With thanks to the author for my review copy.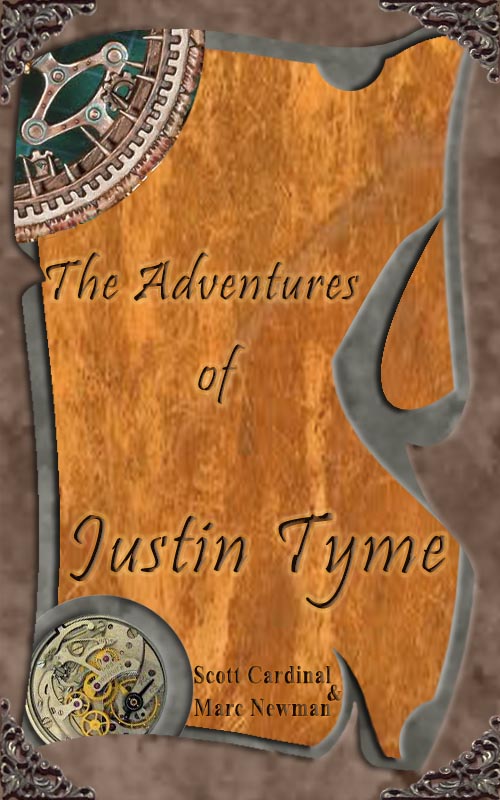 'We were flying in a strange part of the sky,' said Handsome, 'and we thought we'd hit a meteorite shower, ship spinning like a windsock in a gale. I took a three-hundred-and-sixty-degree shot of the ship, and I saw that what we were flying through was a bookstorm – encyclopedias, dictionaries, a Uniform Edition of the Romantic poets, the complete works of Shakespeare.'
'Yeah, I heard of him,' said Pink, nodding.
It has been a number of years and I am still fuming about Margaret Atwood's little rant: "Science fiction has monsters and spaceships; speculative fiction could really happen." Yes it was years ago. Yes she has been backpedalling ever since and why should I even care?
Really though it comes down to marketability. Science fiction is a publishing ghetto. Literature that dabbles in 'speculative' fancies is far more respectable and ensures the authors still get invited to the important parties.
To my mind this is the definition of pretentiousness. A rather literal kind of pretension, but it asserts the dominance of one genre of literature over another.
The Stone Gods opens in a immoral far-future dystopia. Humanity has exhausted their home planet, known as Orbus. The atmosphere is filled with deadly dust-storms. Civilization is completely broken down, with different ideological enclaves controlling their own territories across the globe. The Eastern Caliphate is consumed by religious fundamentalism; the SinoMosco Pact is an extrapolation of the most corrupt form of communism; and finally the Central Power has realized the deepest desires of free market capitalism, with state government replaced by a hierarchy of corporate institutes.
Billie Crusoe is a scientist trapped in a thankless and soul-destroying media job, covering the discovery of a new planet that represents a possible hopeful future for the human race. Completely disenchanted with humanity, Billie can see that if the wealthy elite transfer themselves to this 'Planet Blue', history will simply repeat itself. Once the native species of dinosaurs are artificially wiped out, conversion will begin. Injustice against the lower classes will be repeated; the wealthy will sink into even more immoral depravity; and when the planet itself is stripped of all vegetation, humans will simply find another planetary body to infect.
While covering the story Billie meets the robo-sapiens Spike, an emotionless gynoid who is more than capable of reading human emotion. After Billie is forced to return to Planet Blue with a new crew, composed of scientists and a lucky celebrity, she falls in love with Spike.
However, as Captain Handsome reminds them, history has a habit of repeating itself. The book is split into four sections that reveal that these events are being recycled through a form of eternal recurrence. At times Billie becomes Billy, a sailor on Easter island, or a near-future scientist who encounters an account of the destruction of Orbus, titled The Stone Gods.
I mentioned Margaret Atwood above, because like her work, this book treats of a 'speculative fiction', scenario that smacks of science fiction tropes, but evidently wishes to be counted among more refined literary fellows. References to Samuel Beckett, including his 'begin again', absurdist nihilism abound. Spike is threatened with being recycled to avoid her falling into the hands of rebel forces. Her knowledge and experience of the Planet Blue is intended to be extracted from her, but as the overall story hints, minds undergo a form of evolution ensuring that they are not simply limited stacks of data. Spike ultimately survives, even as Billie will be reborn, or simply return to life over and over again.
Yet this book apes science fiction, while at the same time pretending to philosophical profundity. A swing and a miss I am afraid, one that leaves the text perilously suspended between two stools. In fact at times it resembles bad sf!
Where the book excels, however, is its shocking description of a futuristic dystopia obsessed with sexual depravity. Genuinely unsettling and disturbing, these early passages of The Stone Gods vibrate with anger towards the sexual domination of women by men. There are also moments of surreal humour, such as Spike's disembodied head performing cunnilingus. The book swings between extremes of righteous anger, attempted profundities and comical humour.
I could not help but be reminded of David Mitchell's superior novel, Cloud Atlas, which introduces similar themes to greater effect. A disappointment.
There is a maxim about the universe which I always tell my students: That which is not explicitly forbidden is guaranteed to occur. Or, as Data said in the episode "Parallel's," referring to the laws of quantum mechanics, "All things which can occur, do occur." This is the spirit with which I think one should approach the physics of Star Trek. We must consider the distinction not between what is practical and what is not, but between what is possible and what is not.
I used to think my inability to understand secondary school physics was due to my having to learn it in Gaelic for four years. Then I switched to an English language school and was quickly disabused of that notion. I just have no head for science.
Science fiction, now that I can understand, as the various technobabble and scientific theories introduced into the plot is only so much garnish on a narrative unbound by realism. An ad hoc explanation or two allows the readers to understand the story being told. Star Trek is that rare thing, a work of science fiction that can be enjoyed by both those more academically inclined (ie, not me) and those who simply enjoy a good story.
This is something Lawrence M. Krauss takes full advantage of with his book, a discussion of physics as applied to the fictional universe of Star Trek. As a professor of physics, Krauss is obviously excited to be able to pass on his insights into scientific theories without having to resort to 'Idiot's Guide To...'
Interestingly Krauss admits that it was the notion of a transport, that cornerstone of Trek, that initially piqued his interest in writing the book. In order to facilitate a stylistic choice – creator Gene Roddenberry apparently was forced to figure out a way of allowing his characters to visit alien worlds without landing the ship, as it resembled a fountain feature – the writers of the original show hit upon the notion of matter transportation. A special effect of swirly lights, having a continuity person on hand to make sure the actor hit the same mark when on a different set and the conundrum was solved. However, because Star Trek was such popular show with science geeks – and one which, lest we forget, pitched itself as an attainable future utopia for all of mankind – the show's creators eventually felt that an explanation for transportation machines, replicators, warp drives etc. would have to be provided and would need to be, at least theoretically, explicable in real scientific terms. This is where Krauss comes in.
His assessments of the different levels of plausibility can make for amusing reading. One example of how, in his opinion, Star Trek managed to anticipate actual physics through its own creative efforts (no doubt dreamt up in a rush to meet a script deadline) is the concept of the black hole. Krauss points out that mere months before Archibald Wheeler first coined the term, Star Trek portrayed a very similar phenomenon, though in the series it was termed a 'black star'.  Then there are examples of scientists "just for fun", attempting to look into concepts pioneered by the show, such as when Miguel Alcubierre attempted to formulate a theory for warp travel.
Personally one aspect of Star Trek that always fascinated me was the concept of a holodeck. Krauss points out that the crew of the Starship Enterprise are unusually coy about how they use the facility to create any virtual environment they can imagine (oo look at this!). Like John Zerzan, whose Why I Hate Star Trek I recommend as an alternative discussion of the series, Krauss wonders if the crew were sexless drones, incapable of using the holodeck to fuel baser interests. Happily British show Red Dwarf had no such scruples.
Where I find myself becoming the traditional Star Trek geek, and thusly enraged to a nonsensical hysteria so much that I ignore the very worthy and informative project of The Physics of Star Trek, is Krauss' repeated references to the character of William Riker as a 'Lieutenant'. He was the Commander dammit! When Krauss himself becomes tellingly pedantic – such as sneering that Deanna Troy had no understanding of anti-matter containment – that only made my geek-rage worse. The ship runs on anti-matter, sure, but I wouldn't know how to fix a car engine. Why should she know the in's and out's of how the ship runs?
Caveats aside this is ultimately a very entertaining discussion of physics.