You are currently browsing the tag archive for the 'time travel' tag.
My journal is filled with illustrations and photographs – and yes, even postcards – of places I have been. But let me make one thing clear. I never traveled back in time for fun. I never meant to anything bad. All I ever wanted to do was learn from the past and share what I learned with everyone I could. But most of all, the main reasons I continue with time travel is to find my parents who disappeared so long ago.
Lori over at The Next Best Book Club has proposed a very interesting initiative. She is gathering together book bloggers to create a network dedicated to indie books and self-published writers. It is a very good project, so go and have a look.  Shortly afterwards I got an email from today's author Scott Cardinal, along with a pdf of the novel, which he co-wrote with his cousin Marc Newman, who apparently teaches history in period costume!
This is quite a telling statement, as The Adventures of Justin Tyme (subtitle Mother Jones: The Most Dangerous Woman in America Volume 1) features a village dedicated to maintaining the lifestyle and conduct of late nineteenth century peasant life in America. It is evident that Cardinal and Newman truly believe that greater attention should be paid to the historical past and they make a good case for such an imaginative project for a community (despite this being a work of fiction….with Native American mysticism and time travel, but I'm getting to that).
Justin Tyme parents have been planning to move to family to work with relatives in the experimental commune of Asheville, North Carolina. Before their final departure from New York, exchanging all the modern amenities of city life for hemp clothing and horse-travel, Justin's mother and father vanish. Left distraught, the teenage boy has no idea where they might have disappeared to. Knowing that his parents were involved in doing secret work for the government, there is a good chance that they could be anywhere in the world.
Justin's aunt and uncle bring him with them to Asheville as originally planned. The novelty of the small town serves to distract him from his recent loss and shortly after arriving he makes two new friends, Jett and Catrin, who explain to him what the purpose of the township is:
"Basically, they felt most schools at the time – and even today – made no effort whatsoever to prepare students for the real world, but merely taught them basic information and made sure they could read and write. That just was not enough. That has never been enough. So our curriculum herehas always been, and always will be, quite different from your normal everyday school. In other words, we really learn great stuff here!"
However, one resident of the community seems not to approve of its benevolent intent – Professor Woolkins, who has been entertaining corporate types looking to buy the land and convert it into a tourist attraction. His history lessons on the use of child labour in America during the industrial revolution are also disturbingly critical of the notion of protection laws for minors and he has an unusual collection of artifacts in surprisingly good condition.
This is where the time travel comes in. I do not want to give away too much, but given the title, yes our young hero does discover a method of journeying back through American history and even meets Mother Jones. There is also references to alien visitations, the aforementioned Native American mysticism – the tribe in question here is the Cherokee – but what grabbed my attention here was something far more interesting.
This is ostensibly a work of educational fiction, but it also represents a stout defence of trade unionism and a critique of how society exploits children. Unfortunately while child labour laws were passed in the United States, the depravity and miserable conditions witnessed by young Justin in 1903 persist today. In countries like India and China, and many other places too for that matter, companies in pursuit of high profits continue to use children to do tiring and dangerous work.
For this aspect of Cardinal and Newman's novel I feel I must applaud them. This is not only an enlightening piece of children's fiction – and how often do we hear that – but it is also a welcome critical voice against rampant profiteering, at a time when such methods are once again seen as the norm.
Fun, informative and surprisingly impassioned.
With thanks to the author for my review copy.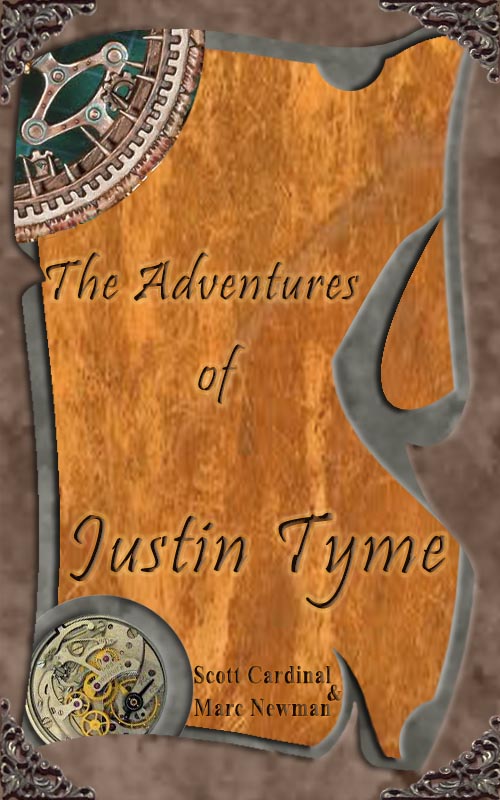 People loved having time machines – but hated the government-imposed restrictions on what they could do at certain key events in history, and the Crucifixion was perhaps the most controversial. Yes, you could go there, but only in ghost mode.
'Yeah the number of people who complain to me because they can't save the Lord, or take His place, or who want to give Mary a hug or a biscuit. How do you stand it?' Malaria has only recently started working at the shop.
'Maintain a sense of humour, Malaria. It's your best defence.'
Have you ever seen the 1960's film version of The Time Machine? Here have a look at the trailer. I principally remember this film for its terrible attempt at showing the passage of time. The Time Machine is parked opposite a shop front window and as the Traveller goes forward in time, he notes how the fashions worn by the mannequins change with each year. It is such a cheesy way to show the abilities of a machine that can skip through history, but it perfectly illustrates the problem with time travel as a story device. As The Doctor has observed, time travel stories tend to result in 'wibbly wobbly timey wimey…stuff', the very non-linearity of the protagonist's adventures leading to extreme headaches for the reader in plot progression.
K.A. Bedford's principal character, Aloysius 'Spider' Webb shares these frustrations. He hates time machines. Unfortunately for him, time machine repair man is the only job available to him. Drummed out of the police force despite a promising career, due to making enemies of the wrong people, Spider was broke before meeting the very charismatic 'Dickhead' McMahon, who offered him a job as an engineer at his business. He makes enough money to get by, has some good staff working with him and receptionist Malaria makes a mean cup of coffee.
One afternoon during what seems to be a routine repair job, Spider and his assistant Charlie discover that the second-hand time machine they've been called out to have a look at is exhibiting very unusual power fluctuations. Almost as if it is present in current space-time and yet also elsewhere. When they return it to shop, they manage to contain it inside a miniature pocket universe before accidentally detonating it. Amid the destroyed shell of the original unit, they see another time machine, sitting in the very same hermetically sealed space. Inside Spider finds a dead body of a woman.
As a former cop, he finds himself compelled to investigate the mystery, but knows that anything involving time travel means trouble. After all that was how he lost his job with the police force in the first place. He has a decent job that pays enough that he can tolerate Dickhead's weird rants about angels. His personal life is a mess. His wife Molly has insisted on a trial seperation and the officer in charge of the investigation into the mysterious dead body, Iris Stone, was a former lover of his. He just wants to keep his customers happy, enjoy a nice cup of coffee and leave time well enough alone.
Then his future self shows up one evening and starts babbling about him being framed for murder, conspiracies involving a group named Zeropoint and a civil war at the end of time itself. Seems no matter what Spider does, he can't live the life he chooses.
According to this novel's cover jacket, it was shortlisted for the Philip K. Dick Award in 2009. I actually found a number of similarities to the master of bluecollar sf. Not only is the very fantastical notion of time travel itself reduced to a 9 – 5 job, Spider's relationships also bear a strong resemblance to the complicated lovelives of protagonists in Dick's fiction.
Sadly the book is just too long. Philip K. Dick would often introduce a scenario within a seemingly ordinary world, only to throw all sense and reason out the window within a hundred pages. Bedford has Spider meet different versions of himself from wildly divering timelines and get swept up into a chronal war spanning millenia. There's simply too much going on.
I did like the offhand humour of the story though, the frequent references to cult shows like Twin Peaks and The Prisoner, as well as the hints that Africa is the industrial capital of the world in the future.
A mixed bag for me then, but it kept me entertained throughout, despite the frequent head-scratching.
He gestured to the fireplace, over which hung a large framed photograph of the billionaire Da Vinci Code author, signed personally to Jean-Noël. "Look at that chin – it is the chin of a genius." He ran his finger down the cleft of his own and mourned its inadequacy. "Mind you, I thought Digital Fortress was a piece of shit."
Way back in 2008, when folks asked me why I intended to move to Australia, I would mention an assortment of reasons, such as the good food, sturdy economy, availability of jobs – but also another factor which caused some consternation. Namely Australian television. I am not talking about Neighbours, or Home and Away, but panel shows such as Spicks and Specks, a very funny programme that's half music trivia quiz, half mad-cap variety hour (half hour!).
It was the good humoured content that surprised me. I grew up with Irish sarcasm and cutting British wit. Satire is the currency of my home's entertainment, with a fair dollop of black comedy and schadenfreude. Australia seemed to me to have embraced an entirely different comedic ethos, fair dinkum banter and harmless absurdism.
Which was how I first discovered Shaun Micallef. His delivery of lines, whether it be as a comedic player, or host of the show Talking About Your Generation, seems initially quite poised, until you realize he's speaking utter nonsense. When I discovered he had written a novel, I had to investigate what genteel gonzoism he had served up this time.
So what is the book about? Well our omniscient narrator is attempting to tell us the story of Alexander Pruitt, murdered in 2005, only to be reborn in Cromwellite Britain in 1657. Which, through a series of plot contrivances involving time travel and the etymology of the word 'twig', it turns out is the period most suitable to him.
Of course as history itself is warped by the events described, our trusty narrator might not even get to finish the book we are reading, or sell the rights to Hollywood, with the maniacal Tom Cruise playing him in an eventual movie. So we have two races to the finish line here, Alexander Pruitt desperately seeking out the meaning of his existence, while torn between two periods in history (as well as a brief cameo in a third); and our narrator hoping to sell out as quickly as possible before his intellectual property is unwritten.
Throw in some Masonic conspiracies, a nice hefty dig or two at Dan Brown's expense, badgers and Blade Runner, and we have ourselves a novel. Oh and just to top it off the secret identity of Jack the Ripper is also revealed.
If this book were to suffer the indignity of a high concept, I would describe it as P. G. Wodehouse meets Philip K. Dick. It is fitting that the head of Philip K. Dick has reappeared as an A.I. oracle. Perhaps someone should ask it what it thinks of Micallef's novel. It is manic, absurdist fare, that doesn't take itself seriously for even an iota of a second. Conspiracies are revealed to be vapid plots without rhyme, or reason. History itself is a mutable, simultaneous projection without purpose. And Tom Cruise is a very scary individual.
The narrator's Hollywood adventure feels like a random digression, but by that point you have become used to the editorial spats asterisked at the bottom of pages, as well as parenthetical asides to the reader, assuring them that it will all make sense in the end. I laughed out loud when Cruise himself begins to interrogate the narrator as to his peculiar 'omniscience', over the proceedings of the plot. It's a brilliant moment.
If I go any further I fear this review will collapse into a puddle of sycophantic loquaciousness. Needless to say, I quite liked it.
That's our man', he said, pointing at Ashbless, 'and that's….what was the name, haven't seen him in a while…Jacky Snapp! – whose involvement in this I'll want explained…but who's the sick old bastard?' The hijackers shrugged, so Ashbless said quietly, 'He's Samuel Taylor Coleridge, a very famous writer, and you'll be buying more trouble than you can afford if you kill him.'
I've been singing the praises of the Fantasy Masterworks series of Gollancz publishing for years now. A carefully selected collection of out-of-print, or underappreciated genre fiction novels, I have yet to encounter a title I did not enjoy. This book is no exception. Tim Powers weaves a tale mixing science fiction and poetry, time travel and Egyptian sorcery, and casts Lord Byron and Samuel Taylor Coleridge as unwitting heroes.
Brendan Doyle spends his days absorbed in his research of the little-known 19th century poet William Ashbless, or drowning his sorrows in the wake of his wife's death. Then one day he receives a fantastical proposition. An eccentric millionaire pays him twenty grand to give a lecture on Samuel Coleridge to a select group of poetry lovers – in 1810. Curious and bemused Doyle agrees and finds himself transported back in time! He gives his lecture, even meets the
famous laudanum addicted poet himself, but is kidnapped by a band of gypsies moments before he is due to return to 1983.
Stranded in the 19th century with no means, no useful skills and no access to modern day hygiene, Doyle resigns himself to a life on the streets of London. However, he stumbles onto a conspiracy among Egyptian sorcerers and a criminal plot to assassinate King George. Soon he finds himself targeted by an evil dwarf, cackling homunculi and an army of beggar assassins. His only hope of rescue is to find William Ashbless and seek refuge with the man who's life he knows intimately from his studies.
But is Ashbless whom he claims to be? And what caused the holes in time that Doyle travelled through to 1810? Who is Dog-Faced-Joe and how is he connected to the Anubis worshipping Egyptian cult that plots to overthrow the British Empire?
Powers has fashioned a rip-roaring yarn that serves up implausible solutions to a number of literary and historical mysteries. What caused Byron's crippling fever while on his Hellenic tour? Was there another cause behind Coleridge's demented visions? The failure of Lord Monmouth's attempted rebellion in the 17th century? Doyle himself is an amusing character, taking a time out from the trauma of being shunted through time to enjoy a fine cigar and jug of ale. There's a whimsical underlying the labyrinthine plot, with body swapping and Egyptian gods stepping out of the wings during the proceedings to keep the story racing along.
19th century poets are something of a sci fi staple. Douglas Adams also included Samuel Coleridge in his novel Dirk Gently's Holistic Detective Agency, and Byron in the company of Mary Shelley appeared in Brian Aldiss' Frankenstein Unbound. There's fun to be had with a contemporary figure interacting with these controversial figures, whose mystique far outlasted their words.
Powers serves up neck-breaking changes in plot and contrivance to engage the reader and teases with possible solutions to age-old mysteries as a casual piece of high-brow dressing. Great fun.